Sometimes I just need to start writing.
If I do that then
the ideas start to flow
. If I don't I'll sit there and stare at a blank screen forever before getting into it. If you're like me, you're always searching for the
perfect
way to start a message. Something that
conveys the essence
of the talk, plus
grabs
people's
attention
and is usually
humorous
. But before I get there, there's just a
blank canvas
sitting before me. Here's a look at how most of my sermons start: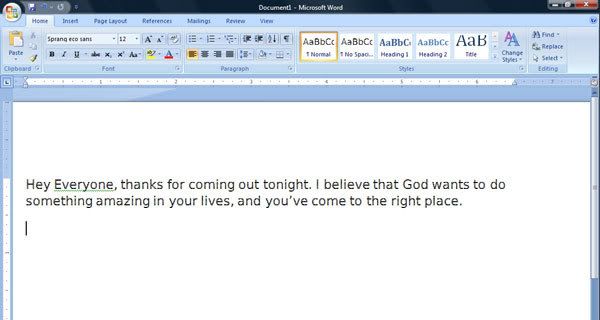 Or some other
form of greeting
. I do this because the
hardest
part of writing is getting that
first sentence
done, and that's usually how I start my sermons anyway. So, my advice for anyone suffering from writers block is just to
start writing
. Even if it's dumb, you can go back and erase it anyway.
What did people do before Word Processors?
-Jeff-